HOW THE LEOPARD GOT HIS SPOTS
Author & Illustrator
Mauritz Mostert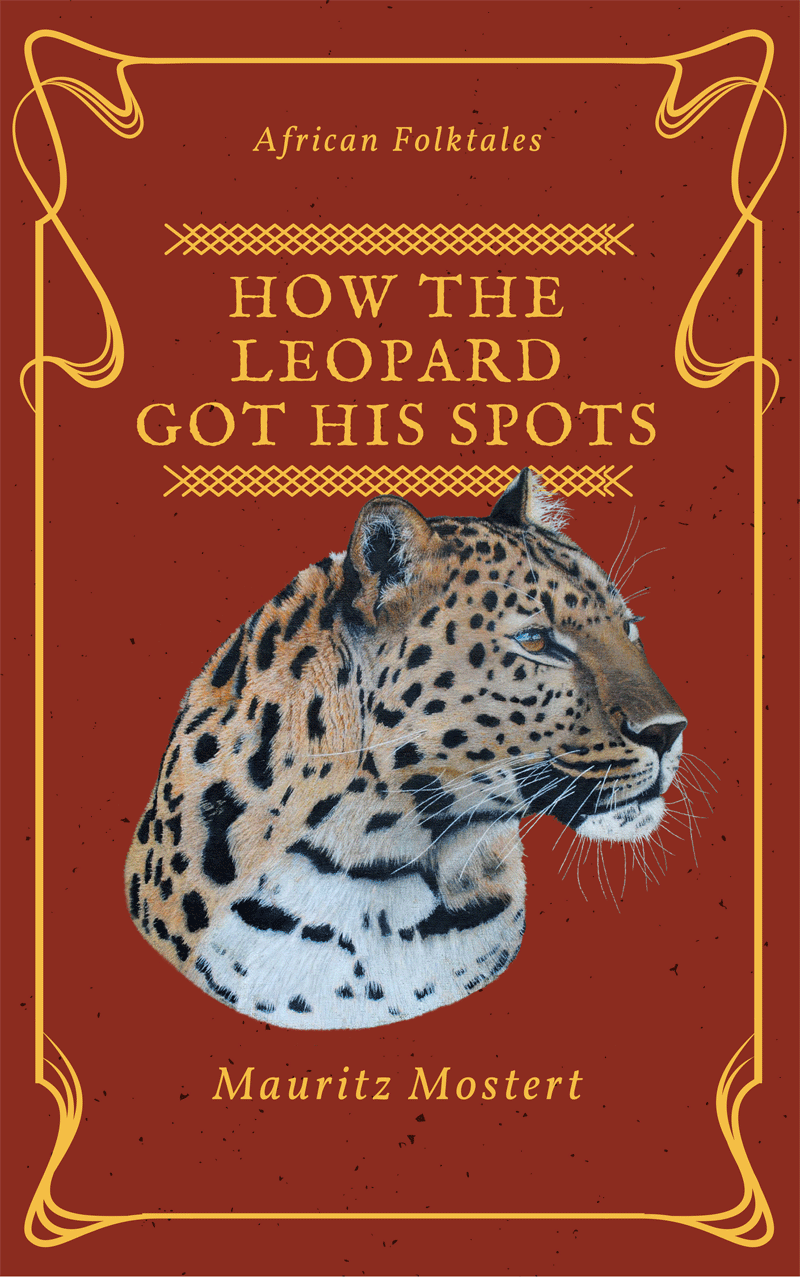 Copyright
How The Leopard Got His Spots
Copyright © 2017 by Mauritz Mostert
All rights reserved. No part of this publication may be reproduced, stored in a retrieval system, or transmitted by any means – electronic, mechanical, photographic (photocopying), recording, or otherwise – without prior permission in writing from the author.
Edited by Cari Mostert
Published by
WILDMOZ
ISBN: 9781537842806
How The Leopard Got His Spots
(An excerpt from the book) 
Long, long ago, somewhere in Africa, when all the people and animals were new… Leopard, Lion and Hyena were the same colour as Lion is today. Then one day, Leopard and Hyena became spotted, but for different reasons.
This tale is of course, about Leopard and his spots, although the spots of Hyena can not be ignored, because of the way Hyena became spotted has much to do about Leopard. Lion, as you will see, is another story.
Our tale begins with Hyena, because of what he did to change the destinies of history. Everyone knows, Hyena is a most unfortunate animal, in that he is not the most attractive to look at. Adding to this misfortune, Hyena and Lion were always quarrelling over food and territory. Lion is, as you know, the great king of all the beasts, so you can understand how this quarrelling caused an uncomfortable disturbance for him and most of the other animals. The animals less affected were Elephant, who is too big, Crocodile, who is too wet and Hippo also.

(An excerpt from the book) 
Leopards Gets His Spots
You see, many hours had come and gone, with poor Tortoise struggling in vain to free himself from the fork in the tree where Hyena had stuck him. It was then by chance, Leopard went out looking for food and in his looking, he passed by the tree in which Tortoise was stuck. Leopard seeing Tortoise up in the tree was most surprised.
"Tortoise, I did not know you also climb trees?"
Tortoise, who at this stage was very weary from his struggles to get out of that tree and at his wits-end, having been there for what seemed to him a long, long time and hearing Leopard, peered down at him mournfully.
"No Leopard, I can't climb trees and I have no need to even be in a tree!"
"So Tortoise if you don't climb trees, how then did you end up so well stuck in this tree?"

(An excerpt from the book)
The Hoeing People
Leopard had become a truly eye-catching animal to see, especially when seen for the first time. So one day, Leopard remembered he had not shown himself to the folk round about. Consequently, down the pathway he went on to the nearby village, where the people knew him well. These people had seen him pass by many times before, while working their vegetable fields. And on this occasion, they were peacefully hoeing when he passed them by. He nearly jumped out of his newly painted skin, when they cried out with one voice.
"Oh, the beauty! Let us catch it and tie it up."

(An excerpt from the book)
Hyena's Search For Tortoise
This was not what Hyena had expected, disappearing into the bush loudly proclaiming to anyone who would listen.
"I will smash Tortoise today wherever I find that little beast. Before I had only stuck him up in a tree-fork. That was nothing. Wait till I find him this time!"
In his frantic searching, Hyena stumbled into Lion and nearly came a cropper with a powerful right paw.
"Who are you? I cannot remember seeing you around these parts before," growled Lion.

(An excerpt from the book)
Lion Consults Leopard
Instead of finding a plain coloured Leopard as he expected, he found that spotted cat in Leopard's tree, at which Lion became even more puzzled.
"Who are you and what are you doing in Leopard's tree?"
Leopard, hearing Lion's voice was pleased, thinking maybe his friend had come to his senses and wanted to talk, but was surprised by his question.
And the story goes on…
Do Leopard and Lion make peace with one another…?
Original stories never before told
Thanks to Mauritz, we now have the full stories as they should have been written. Here are tales tested over time, to be told around the camp fire or as a warm and cozy bedtime story. These are 12 African Folk adventures, in a style reminiscent of the old speech of traditional folktales.
eBooks from all major distributors
Base price $2.99 each
Available around the world in a format of your choice
Books For Sale
As the books are released they will appear on Wildmoz
Check the widget on the sidebar, for our free Internet Glossary.
Site Map
To Share This Article: