Jabu And The Lion
Author & Illustrator
Mauritz Mostert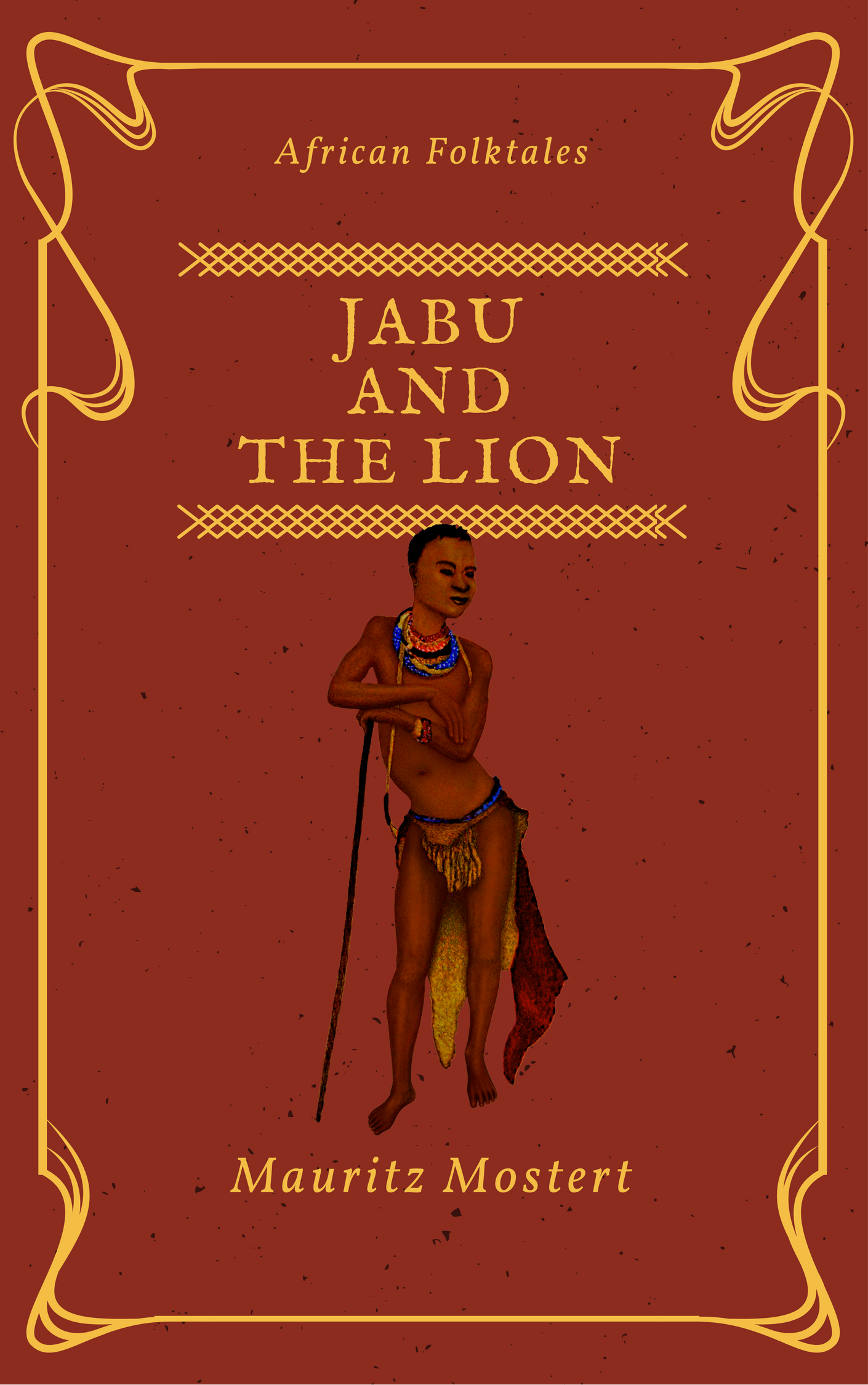 Copyright
Jabu And The Lion
Copyright © 2017 by Mauritz Mostert
All rights reserved. No part of this publication may be reproduced, stored in a retrieval system, or transmitted by any means – electronic, mechanical, photographic (photocopying), recording, or otherwise – without prior permission in writing from the author.
Edited by Cari Mostert
Published by
WILDMOZ
ISBN: 9781537833880

(An excerpt from the book) 
Jabu And The Lion
Long, long ago, somewhere in Africa, when all the people and animals were new… The truly brave heroes of the African tribes were the goatherds and herdsman, who without much reward, faced great dangers.
Why keep cattle in a land abundant in wildlife? Rather, let me not get ahead of myself here and consider the needs of the people in their day, as this is primarily what our tale is about. From the herds of domesticated animals would come milk, meat, ropes, fat, oil, mats, clothing, shields and in fact much more than this simple story involves.
You say hunters would provide most of this too? Of course! Although, the domestic herds provided a very special and important contribution western cultures overlook, which is lobola. A very important something the hunters could not give the people and that something, they themselves needed. Lobola! An essential something without which a man and woman were forbidden to get married or start a family, so here is where the humble herder plays such an important role.
Lobola was a traditional African custom, involving the trading of a suitor's wealth in cattle for a chosen wife of his desire. A suitor was required by tribal law to pay the father of the bride-to-be a certain number of animals for his daughter's hand in marriage. Her final value in cattle would then be argued out and decided upon between the parties involved.
In this way, the wild animals were preserved in favor of the cattle grazing side by side with them.
Hence, as you can see, this gives a better collective idea of the value of the herders of old… and of this story too. Key to the success of any tribe chiefly belonged to these young men and upon this matter, I will not expound. Nay, by way of this African fable, I will let the story tell the story.
This folktale sings the praises of these brave young men out in the wilds of Africa and in so doing, tells a younger generation of how things in times past were upheld and administered.
To single out an example of the herdsman's courage, dedication and service, has not been easy. There are many heroes among the simple animal keepers of old, but one story stands out above the rest. This is the tale of a young man named Jabu and his strange encounter with a lion.
Jabu, a herdsman of a certain village, somewhere in Africa, shone out as a special young man. Having started at the age of eight and now around fourteen years of age, he had learnt his trade in the traditional manner from the older herdsman. So here, chosen above the rest, is Jabu's story…
And the story goes on…
Does Jabu get eaten, attacked, or even chased back home…?
Original stories never before told
Thanks to Mauritz, we now have the full stories as they should have been written. Here are tales tested over time, to be told around the camp fire or as a warm and cozy bedtime story. These are 12 African Folk adventures, in a style reminiscent of the old speech of traditional folktales.
eBooks from all major distributors
Base price $2.99 each
Worldwide in a format of your choice
Books For Sale
As the books are released they will appear on Wildmoz
Book Reviews:
I have had a fascination for all of Africa since I was a small child. I've visited many countries in Africa, and know that mankind began in Africa. I have always been interested in the ancient people and their folktales.
I don't recall how I came to find Wildmoz, but there is so much to learn and enjoy on Wildmoz. When I came Upon the Folktales Books, they opened up a new understanding of tales which have been told orally since ancient times.
The Trilogy (I do hope there are many more of these books) includes, How the Leopard Got His Spots, How the Zebra Got His Stripes, and Jabu and the Lion.
Each of the stories make you feel as if the author is telling the stories orally. I can imagine, sitting around a campfire on a starry night, listening to an 'old man' tell stories he'd heard since his youth. The words flow easily and the first two folktales can easily be understood by even the youngest child. The last book about Jabu is better understood by an older child or an adult.
The personalities of the animal characters in the stories follow the traits of the real animals. Although the stories are folktales, they are true to the individual animal. All tales should have a morality statement, and these stories do not disappoint.
I found, many of the descriptions in the stories, amusing. I so liked the one about the tasamma melons quenching the thirst but leaving a strange feeling on your teeth. It immediately brought to my mind, eating a persimmon.
I would recommend these books for both children and adults.
Bobbi Lippe Mallace USA
Site Map
To Share This Article: